Examples of use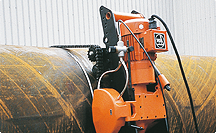 In pipeline construction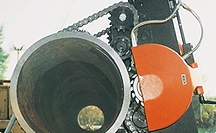 For steel pipes
For pipes featuring cement centrifugal coatings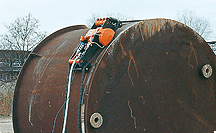 In tank construction
Powerful professionals.
The pipe cutting industry the world over is familiar with FEIN pipe milling machines. They can be used for everything from cutting to length before laying to cutting pipes which have already been laid. FEIN pipe milling cutters produce reliable and precise work on cast iron or steel pipes for oil, gas and water as used in pipelines, public supply networks, power plants, industrial systems and tank construction. Optimised technology ensures a good cutting performance.
Tried and tested technology for perfect results.
The system comes into its own under tough conditions, e.g. pipe fractures. Adapting to different pipe materials by selecting the right gear ratio produces ideal cutting and feed speeds, enabling the cost-effective use of HSS and carbide tools.
Exact tracking, clean cuts.
The two-chain system with separate spring tension pots and the adjustable track setting make possible distortion-free and exact cuts of between 250 and 3,000 mm in diameter. The chain tension ensures the system runs without leaving any marks, making FEIN pipe milling machines suitable for work on high-pressure pipes for example. The cutting and removal process ensures clean pipe ends. The appropriate tools can be used to produce profile cuts for V or U-shaped welded grooves in addition to smooth cuts. All this with simple installation and easy handling.
At a glance
Powerful, robust pneumatic and three-phase motors for use even under extreme conditions.
Electric motors can also be used at very low sub-zero temperatures.
Electric pipe milling machines with feed and return (return only in load-free operation).
For pipes with a diameter of between 250 and 3,000 mm.
Profile and separating cuts with form cutter or saw blade.
Precise directional stability and exact cut thanks to the two-chain system, adjustable track setting and double chain tension.
Crack-free pipe ends.
Easy installation thanks to optimised handling.
Available in 2 gearbox variants, with different feed and speed levels for cutting speeds to suit the material in question.
Feed and miller drive connected by gearbox.
Gearbox overload protection through slipping clutch.
Special versions with split drive shaft for cutting pipes and containers with thick walls are available on request.
Extensive FEIN accessories range.
Important information
EC Directive 94/9/EC ATEX (Explosive Atmospheres) We would like to point out that the RDG/ RSG/RSGex FEIN pipe milling machines are not approved for use in areas at risk of explosion and that these machines do not have an EC type examination certificate in compliance with Directive 94/9/EC. (For the RSGex pipe milling machine, only two ATEX-compliant components are fitted, i.e. the electric motor and additional switch.)