Careers with FEIN
Your opportunity with prospects.
Careers at FEIN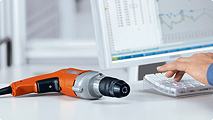 In 2007 all function areas were brought together at one site. This has enabled us to produce a modern working environment with short communication channels and quick decision-making. Our staff value the fact that they work for a technology leader which develops, manufactures and markets application-focused products recognised as leading products by industry and manual trades.
As an independent family-run business we have gained a reputation as a reliable and respected local employer in Eastern Wuerttemberg. This is proven by the fact that on average staff stay with us for longer than is the case at other companies. Since we are bound by collective bargaining agreements, we provide performance-related pay, attractive training and further development opportunities and exciting everyday work.
Contact in the event of questions
FEIN POWER TOOLS INDIA PVT LTD.
S.F.No.767/2B-1, Mayiladum Parai,
Chettipalaym, Coimbatore – 641201.
P: +91 0422 2655655/755
Hand phone : 98407 18434
info@fein.in